This is a great gaming PC that won't break the bank!
The one below packs more punch, but stock is limited, so if you find it for around $1650, it's a GREAT deal:
Sale
ROG Strix GA15DK Gaming Desktop PC, AMD Ryzen 7 5800X, GeForce RTX 3070, 16GB DDR4 RAM, 512GB SSD + 1TB HDD, Wi-Fi 5, Windows 10 Home, GA15DK-AS776
AMD Ryzen 7-5800X Processor (32M Cache, up to 4.7 GHz) with ROG B550 board & chipset
NVIDIA GeForce RTX 3070 8GB GDDR6 (Base: 1500MHz, Boost: 1755MHz, TDP: 220W) | GPU Ports: 1x HDMI, 3x DP, 1x DVI
512GB PCIe NVMe M.2 SSD + 1TB HDD | 16GB DDR4 3200 MHz RAM | Gigabit Wi-Fi 5 (802.11ac)
Game your way with customizable ASUS Aura Sync RGB chassis lighting and EMI-reducing transparent side panel
Flow Tech Ventilation elevates internal cooling to maximize system performance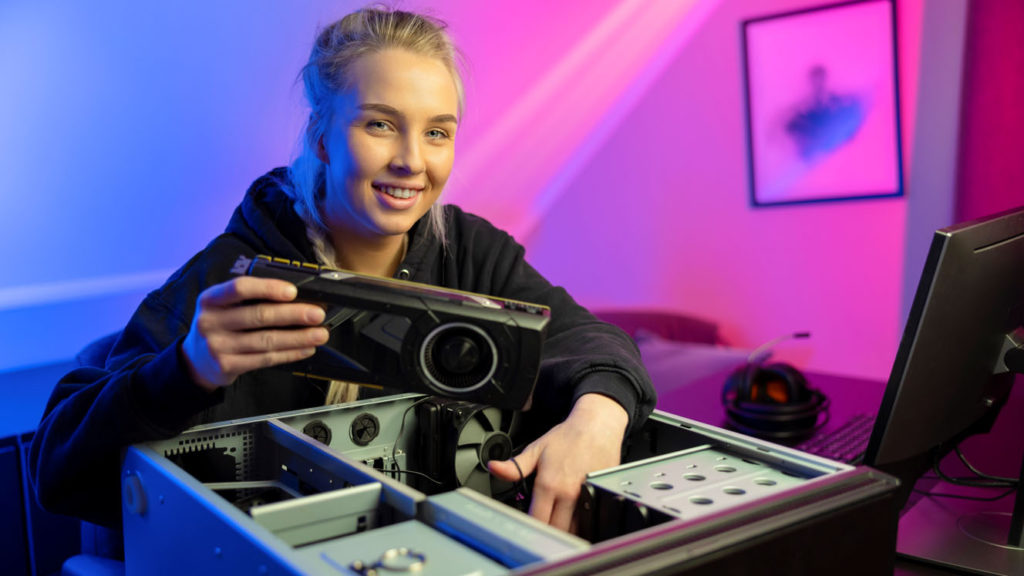 Here are other great choices:
Looking for the best gaming PC that has a reasonable price, but still packed with great components? A lot of people want to get their hands on a gaming PC, and you might be one of them. But there is only so much money in your wallet so building your own custom gaming rig can be quite challenging or simply not possible at all. Plus, if you do not have the time and patience to build it yourself then you can just go ahead and get an already-built gaming system. A pre-built computer may cost more than what you imagine, but getting one will save you from doing the dirty work of assembling one yourself. This article will provide several options for affordable gaming PCs that are guaranteed to bring high value for your money.
What to Consider When Buying a Gaming PC
There are millions of gamers all over the world and most people would like to build their own gaming rig, but they do not know where to start. If you are also looking for the best budget computer that will allow you to play games on your HD TV or monitor, then read this article further. A high-end gaming PC is not necessary because there are some affordable options out there that can let you run popular games at an impressive frame rate with ease. Here are some things that you should take into account when buying a budget gaming system:
The Budget You just have to look around or search online for different types of pre-built computers available in the market today. There are hundreds of different gaming PCs from various brands and manufacturers that vary in price. You can start by setting a budget for your system to avoid overspending on something that you do not really need. Keep in mind though, spending a little bit more might give you better value for your money, but one thing is certain: you will get the best out of what you paid for if you spend right at or below your budget limit.
What You Will Be Using It For If possible, check the type of games that you want to play so that the computer components will be tailored specifically to suit that purpose. There are certain pre-made machines out there that offer great performance when it comes to playing video games while others are designed mainly to handle tasks such as editing movies and videos. The amount of money that you will spend for this should depend on the type of system that you want.
Your Computer's Performance Requirements You also need to consider how much power does your computer really need to handle modern-day games effectively. A good gaming PC must have at least 8GB worth of RAM with an Intel Core i5 processor or better. For gamers who are obsessed with graphics fidelity, getting a high-end video card is highly recommended, but if you want fluid gameplay then opting for a budget GPU can do the trick as well. Also, make sure that you check the storage space needed by each game so that it will be easier for you to choose which drive to install them on.
Choosing the Best Gaming PC Under $500
If you are low on budget but still want to get into the world of gaming, then one of these affordable gaming PCs can do the trick. They might not offer the best graphics out there compared with high-end systems, but they should be able to handle most modern games at decent frame rates. Check them out below:
Last update on 2023-12-05 / Affiliate links / Images from Amazon Product Advertising API.